Professor Noah's Spaceship
Once upon a time, the animals and birds lived happily in a beautiful forest that provided for all their needs. Sadly, pollution begins to destroy their shelter and food supply, and their future looks bleak. Fortunately, Wise Owl leads the others to Professor Noah, who is building a spaceship rather than a boat like the first Noah did. The kind professor invites the animals to blast-off with him to another planet in order to escape the destruction of the forest. After traveling for 40 days and 40 nights, the time guidance system is accidentally twisted in reverse and the space travelers end up back on Earth in a pristine forest just after the famous biblical flood.
Readers can make connections between the reissue of this timely story and the need for 21st-century environmental protection and preservation. The richly-detailed and colorful illustrations will keep readers thoroughly engaged in the story.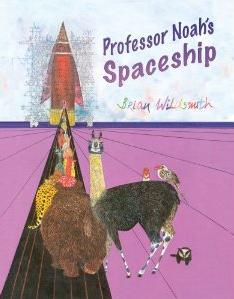 Author:  Brian Wildsmith
Reading level: Ages 4 and up
Hardcover: 32 pages
Publisher: Star Bright Books (April 1, 2007)
Language: English
ISBN-10: 159572124X
ISBN-13: 978-1595721242