Follow Up SDG 1:  The weekly wages of famous football stars! (Year 9 – Year 11)
Are you a football fan? Ronaldo or Messi? Which is your favourite football club? The most talented player?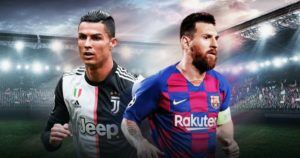 Look at the picture with the football stars to check their weekly wages.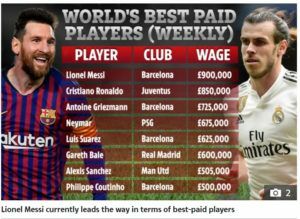 Impressed?!
Now read this information below (Source:United Nations)
More than 700 million people, or 10% of the world population, still live in extreme poverty and is struggling to fulfil the most basic needs like health, education, and access to water and sanitation. The majority of people living on less than $1.90 a day live in sub-Saharan Africa.
–        Do you think this is fair? Why?
–        Some famous football players donate large amounts of money to charities and organisations that assist the poor and marginalised groups.
–        So what harm is there in these exorbitant wages if the players donate part of their wage to charities?
Now watch this video? You're in for a surprise!
What do you think Cristiano Ronaldo is doing here? Is he trying to send us a message or is he just trying fooling us?
Send us your comments! We're very eager to hear your views.