Green Flag Awards hosted by the President of Malta
March 2, 2021
Hybrid Green Flag Award Ceremony 2021
44 schools receive the internationally acclaimed Green Flag Award
 Resilience in times of pandemic 
 In a ceremony presided over by the President of Malta, H.E. Dr George Vella a total of 48 schools received recognition for bringing a marked positive change in their school communities. Gozo College Secondary School, Gozo College Xewkija Primary School, Maria Regina College Naxxar Primary School, QSI International School of Malta, and St Nicholas College Baħrija Primary School were awarded the prestigious international Green Flag Award for the first time. St Joseph Mater Boni Consilii School Paola and St Joseph School Blata l-Bajda received the 8th consecutive Green Flag marking their 16 years of commitment towards sustainability. The ceremony was held at San Anton Palace in a hybrid set-up under strict Covid-19 measures.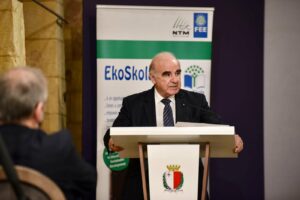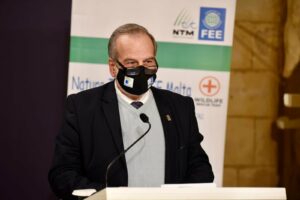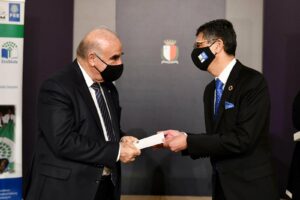 The programme which is locally managed by Nature Trust – FEE Malta empowers students to adopt an active role in environmental decision-making and action in their school and community. These awarded schools can now boast that they have received international recognition that they are implementing Education for Sustainable Development (ESD) as outlined in the National Curriculum Framework.
However, as expected like any other institution, schools were hard hit by the pandemic during the past months. Like their foreign counterparts, EkoSkola students adopted a different strategy to keep the programme running by re-adjusting to the new realities. The new Covid-19 measures ushered practices that are in conflict with the various sustainability practices and progress students had made in various areas particularly in single-usage plastics. The schools' response was immediate and notwithstanding the fact that schools were closed, work continued via online meetings and campaigns involving all those who were homebound making it even more effective.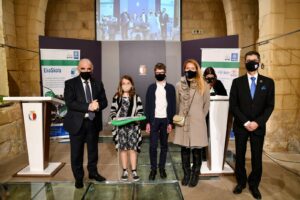 Since the onset of the pandemic, several campaigns were launched by EkoSkola spearheaded by FEE (Foundation for Environmental Education) which is the international organisation running the programmes. Amongst these were EcoSchoolstaysactive, Trash Hack, WASH-(Water Sanitation and Hygiene).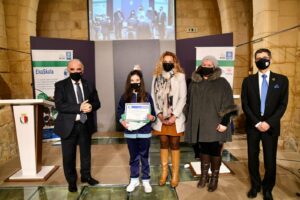 In the meantime work continues on all fronts mostly on climate change mitigation and adaptation, addressing environmental pollution and halting biodiversity reflecting FEE's strategy for the coming years. This student-led whole-school approach methodology is not only an opportunity to assist in the holistic development of the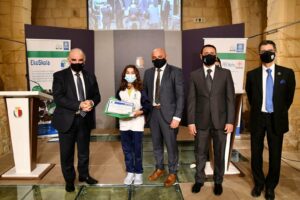 child, but is also serving to meet international commitments our island nation has as signatories to various treaties and conventions, not least the UN's 17 Sustainable Development Goals (SDGS). Students investigate issues pertaining to these goals and take informed decisions to try and address them in the best way they can at the school level, at the community 
level and also at the national level. With Malta also being a member of the European Union, EkoSkola students are strengthening their resolve to make Europe the first climate-neutral continent as embodied in European Green Deal.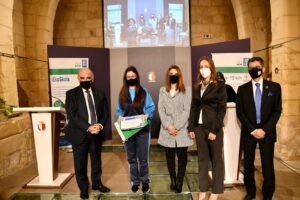 More photos below Awards List… (photos provided by San Anton Palace)
List of Awards:
| | | |
| --- | --- | --- |
| | Name of School | Award |
| 1 | St Joseph, Mater Boni Consilii School, Paola | 8th Green Flag |
| 2 | St Joseph School, Blata l-Bajda | 8th Green Flag |
| 3 | San Ġorġ Preca College, Paola Primary School A | 7th Green Flag |
| 4 | St Benedict College, Kirkop Primary School | 7th Green Flag |
| 5 | St Ignatius College, Siġġiewi Primary School | 7th Green Flag |
| 6 | St Thomas More College, Tarxien Middle school | 6th Green Flag |
| 7 | St Benedict College, Mqabba Primary School | 6th Green Flag |
| 8 | St Francis School, Birkirkara | 6th Green Flag |
| 9 | St Francis School, Sliema | 6th Green Flag |
| 10 | Maria Regina College, Mosta Secondary School (Lily of the Valley) | 5th Green Flag |
| 11 | St Benedict College, Qrendi Primary School | 5th Green Flag |
| 12 | St Benedict College, Safi Primary School | 5th Green Flag |
| 13 | St Dorothy's Senior School | 5th Green Flag |
| 14 | St Edward's College | 5th Green Flag |
| 15 | St Joseph School (Junior Section), Sliema | 5th Green Flag |
| 16 | St Joseph School (Senior Section), Sliema | 5th Green Flag |
| 17 | St Monica School, Gżira | 5th Green Flag |
| 18 | St Theresa College, Birkirkara Primary School | 5th Green Flag |
| 19 | Gozo College, Sannat Primary & Special Unit | 4th Green Flag |
| 20 | Maria Regina College, Mellieħa Primary School | 4th Green Flag |
| 21 | Maria Regina College, Young Adult Education Resource Centre, Wardija | 4th Green Flag |
| 22 | St Benedict College, Għaxaq Primary School | 4th Green Flag |
| 23 | St Francis School, Victoria | 4th Green Flag |
| 24 | St Jeanne Antide College, St Joan Antide School, Gudja | 4th Green Flag |
| 25 | St Margaret College, Żabbar Primary School A | 4th Green Flag |
| 26 | Gozo College, Middle School | 3rd Green Flag |
| 27 | National Sports School | 3rd Green Flag |
| 28 | San Ġorġ Preca College, Valletta Primary School | 3rd Green Flag |
| 29 | St Aloysius College, Secondary School | 3rd Green Flag |
| 30 | St Elias College | 3rd Green Flag |
| 31 | St Ignatius College, Żebbuġ Primary School | 3rd Green Flag |
| 32 | St Nicholas College, Dingli Primary School | 3rd Green Flag |
| 33 | St Theresa College, Middle School, Birkirkara | 3rd Green Flag |
| 34 | Sacred Heart College, Junior School | 2nd Green Flag |
| 35 | Maria Regina College, Mosta Secondary School (Żokrija) | 2nd Green Flag |
| 36 | St Aloysius College, Primary School | 2nd Green Flag |
| 37 | St Benedict College, Kirkop Middle School | 2nd Green Flag |
| 38 | St Michael Junior School, Pembroke | 2nd Green Flag |
| 39 | St Nicholas College, Rabat Middle School | 2nd Green Flag |
| 40 | Gozo College, Secondary School | 1st Green Flag |
| 41 | Gozo College, Xewkija Primary School | 1st Green Flag |
| 42 | Maria Regina College, Naxxar Primary School | 1st Green Flag |
| 43 | QSI International School of Malta | 1st Green Flag |
| 44 | St Nicholas College, Baħrija Primary School | 1st Green Flag |
| 45 | St Dorothy's Junior School, Sliema | Silver Award |
| 46 | St Thomas More College, Fgura Primary School B | Silver Award |
| 47 | Verdala International School | Silver Award |
| 48 | St Nicholas College, Mġarr Primary School | Bronze Award |