365 Ways to Live Green for Kids: Saving the Environment at Home, School, or at Play – Every Day!
In the greenconscious world we live in today, parents realize the importance of teaching the lessons of green living, early on. With this book, parents can encourage their children to be ecologically friendly with fun lessons such as:
The three Rs: reducing waste, reusing materials, and recycling
Why we should keep the air, oceans, and forests pollutionfree
Why organic food is tastier?and better?for you
How to protect plants and animals
Earth Day celebrations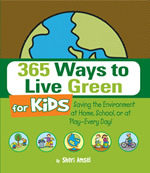 Complete with tips for every day of the year and activities for home, school, and during playtime, this book reveals how easy it is to be an ecofriendly family and prepare for a better future together.
Author: Sheri Amsel
Reading level: Ages 9 and up
Paperback: 224 pages
Publisher: Adams Media (March 18, 2009)
Language: English
ISBN-10: 1605506346
ISBN-13: 978-1605506340