Follow Up SDG 3 – COVID – 19 hits developing countries! (Year 9 – Year 11)
In very poor countries they do not have means to tackle the COVID 19 for the following reasons:
–        Not enough medical supplies to detect, prevent and treat the spread of the virus like; digital thermometers, masks, sanitizers, ventilators, protective gear for front liners etc. …
–        Not enough medical supplies as they have to import them so the supplies are taken by the developing countries first
–        Not even the usual medicine to treat the existing diseases is arriving
–        More money is spent to find a cure for COVID 19 than any other disease like Tubercolosis which still kills many patients  ( you can read more about this here).
–        They are so poor that they still go to work and mingle with other possibly infected people because they are hungry and have to work to earn money and buy food
–        No or little support from local authorities/ governments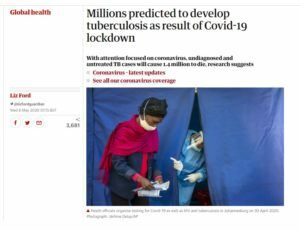 Now watch these two videos to learn more and try to find more reasons why COVID-19 is more likely to affect developing countries:
Video 1: Why supporting developing countries is essential
Video 2: Which countries and regions in the World are most at risk in the COVID 19 pandemic?
What can be done to assist these countries?
Try to do some research to find out if the United Nations or the World Health Organisation or any other entity is helping these people and how.
Is our country doing anything to assist?
Do you think we should? How?
Discuss and share with us what you manage to find.